Alfalfa Sprouts | How to grow Alfalfa Sprouts
Grow your very ownalfalfa sprouts at home any time of the year. All you need are alfalfa seeds, water and some patience! Serve these nutritional crunchy homemade alfalfa sprouts with salads, burgers, sandwiches, veggies or lentil dishes. About Alfalfa Sprouts In Hindi, alfalfa sprouts seeds are called 'rajko'. I like to buy organic alfalfa seeds…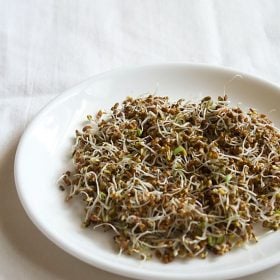 Grow your very ownalfalfa sprouts at home any time of the year. All you need are alfalfa seeds, water and some patience! Serve these nutritional crunchy homemade alfalfa sprouts with salads, burgers, sandwiches, veggies or lentil dishes.
About Alfalfa Sprouts
In Hindi, alfalfa sprouts seeds are called 'rajko'. I like to buy organic alfalfa seeds from the Fabindia store or superstores. One of my friends showed me how to sprout alfalfa seeds at home and I am so thankful as now I get to enjoy these sprouts whenever I like!
Alfalfa seeds are really tiny but, once they grow they become tasty, nutritious sprouts. They are crunchy and can be eaten in different ways. These sprouts will add texture and nutrients to your family's diet. Add them to your breakfast, lunch or dinner meals – sprinkle on salads, soups, top in sandwiches, burgers or serve as a side with your main course.
I sprouted these seeds for 3 days in the hot month of May in India. For colder temperatures, sprout the seeds for 4 to 5 days. You will get beautiful green sprouts that are a delight to look at! I love to add these little beauties to my morning toast with tea and my simple salads.
Once sprouted, store sprouts in a zip lock bag or airtight box for 4 to 5 days in the fridge.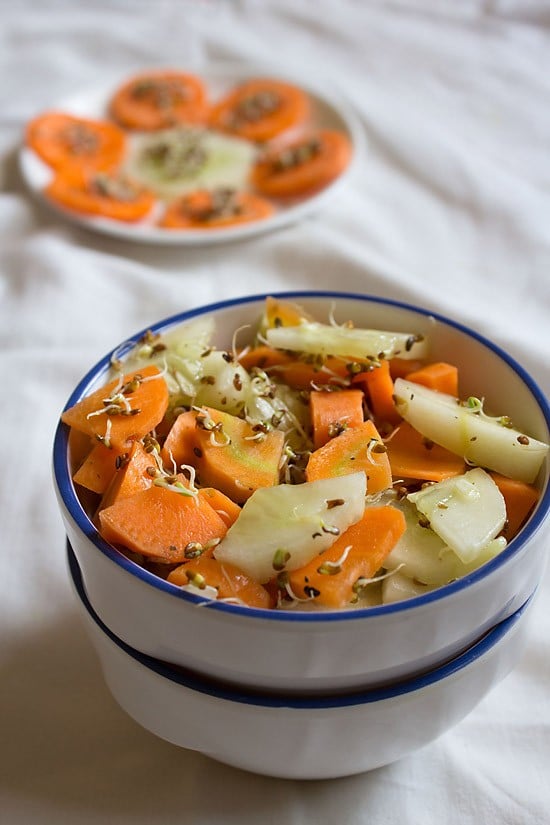 Alfalfa…
Read full article Source