Aloo Tikki Burger (Potato Burger)
If you're on the hunt for a delicious, homemade vegetarian burger, look no further. My Aloo Tikki Burger recipe is a home run! Crisp golden potato patties are sandwiched between burger buns and then topped with veggies and slathered with two chutneys for a handheld meal that is a fan favorite. About Aloo Tikki Burger…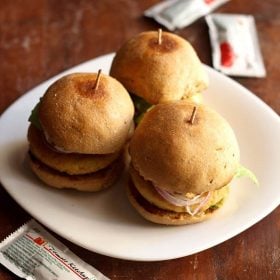 If you're on the hunt for a delicious, homemade vegetarian burger, look no further. My Aloo Tikki Burger recipe is a home run! Crisp golden potato patties are sandwiched between burger buns and then topped with veggies and slathered with two chutneys for a handheld meal that is a fan favorite.
About Aloo Tikki Burger
For my readers here in India, I'm sure you're already aware of the well-known McDonald's McAloo Tikki Burger. I'm here to tell you, this is not what I'm trying to replicate!
Instead, this recipe is a nod to the popular and traditional North Indian street food that is often sold on the streets of Delhi and Gurgaon.
We used to love gorging on these Aloo Tikki Burgers so much that we would visit the street vendor near our home in Delhi several times a week.
Having warm aloo tikki sandwiched between squishy-soft buttered buns topped with multiple chutneys and sliced veggies and served alongside Dahi Papdi Chaat was a perfect weeknight.
Nowadays, we try to visit the street vendors only on rare occasions. When street food snacks are made at home, we can make them healthy for our family while keeping them extra delicious!
I made a few tweaks to make this Aloo Tikki Burger a bit healthier than the ones from our night adventures.
First, I opted to use homemade whole wheat buns for a nice dose of fiber. I also add lettuce and cucumber to mine, because we can all use more fresh vegetables in…
Read full article Source