Arisi Upma | Rice Upma
Arisi Upma is a traditional breakfast dish from the South Indian states. It is basically Rice Rava Upma, also referred to as the Akki Tari Uppittu in Karnataka. This Rice Upma is an authentic, easy and delicious preparation resembling the regular semolina Upma, yet distinct in its own way. This preparation is also a gluten…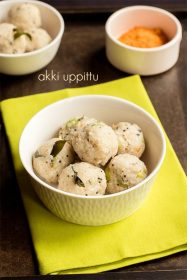 Arisi Upma is a traditional breakfast dish from the South Indian states. It is basically Rice Rava Upma, also referred to as the Akki Tari Uppittu in Karnataka. This Rice Upma is an authentic, easy and delicious preparation resembling the regular semolina Upma, yet distinct in its own way. This preparation is also a gluten free and vegan one.
About Arisi Upma
In the name Arisi Upma, 'arisi' basically means rice in Tamil. While for Akki Tari Uppittu, 'akki tari' means broken rice in Kannada. There are many ways this dish is made across South India. It is also called Uppudu Pindi and Biyyam Rava Upma in Andhra Pradesh and Telangana.
I've have been able to enjoy this dish since my growing up years. It was one of those many dishes which was a complete favorite at home. The house would be engulfed with the wonderful aroma of the rice rava and spices cooking with each other.
We used to literally wait anxiously and keep a check on the time, for it to fully get ready. So that we could just gorge it up within minutes.
The most special part would be nibbling onto the crushed bits stuck to the pan! All of this does add to my fond memories of this particular Arisi Upma.
I really find it amazing that how simple ingredients can be brought together into a dish, which is delicious and heart-warming at all levels. This Rice Upma is one of those many preparations.
More…
Read full article Source