Bacon and Cheddar Breakfast Pizza Recipe
This website may contain affiliate links and advertising so that we can provide recipes to you. Read my privacy policy. Pizza for breakfast? Yes please! A thin, crispy crust topped with salty bacon, a pile of soft scrambled eggs and melted cheddar cheese.. now that's how I like to start my mornings! I'm one of…
This website may contain affiliate links and advertising so that we can provide recipes to you. Read my privacy policy.
Pizza for breakfast? Yes please! A thin, crispy crust topped with salty bacon, a pile of soft scrambled eggs and melted cheddar cheese.. now that's how I like to start my mornings!
I'm one of those people that likes to enjoy breakfast all day long. Eggs and bacon are my love language! If you're looking for other recipes to make for breakfast (or any meal, really) try breakfast quesadillas, breakfast enchiladas, or this easy-to-make breakfast casserole!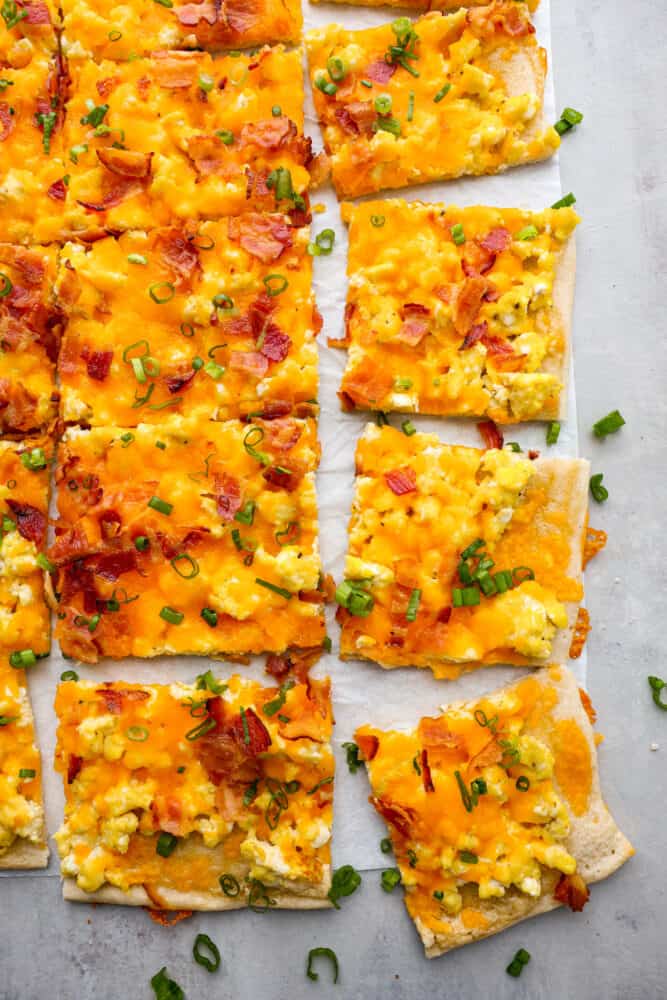 Bacon Breakfast Pizza Recipe
Breakfast pizza? Pizza for breakfast? Now we're talking! Even though this recipe is simply bacon and eggs piled onto a pizza crust, trust me when I say that this breakfast pizza will earn you major brownie points with anyone you serve it to. Total cool Mom status, right?
First, scramble up some eggs until they are just cooked through but still nice and soft. They'll cook a little more in the oven later, so keep them just a tad on the undercooked side. Add them to some refrigerated pizza dough for easy prep along with "pizza sauce" made with Dijon mustard and mayo, then cover with bacon and shredded cheese. Pop it in the oven, and voila! Easy, cheesy, breakfast pizza magic.
Ingredients for Bacon and Cheddar Breakfast Pizza
This is everything I used to make this bacon and cheddar breakfast pizza. It uses a lot of simple ingredients but is so incredibly delicious! I know your family will love it as much as mine does.
Refrigerated Pizza Crust Dough:…
Read full article Source