Beetroot Thoran (Kerala Style Sautéed Beetroot)
It is not that the richest or the most lavish looking dishes will always be wanted by the body, mind and soul. Sometimes, the flavors and textures of simplicity wrapped in a dish like an easy sautéed vegetable also is quite magical. Just what you need to elevate your mood and spirits. That's exactly what…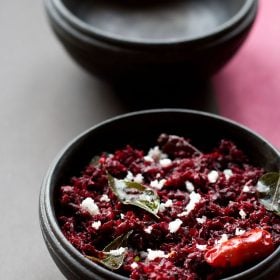 It is not that the richest or the most lavish looking dishes will always be wanted by the body, mind and soul. Sometimes, the flavors and textures of simplicity wrapped in a dish like an easy sautéed vegetable also is quite magical. Just what you need to elevate your mood and spirits. That's exactly what this Kerala style Beetroot Thoran does. It is quick, yet a delectable, mildly spiced and slightly sweet dry dish made with gorgeous beetroots and earthy coconut. It is a vegan recipe as well as a nutritious one too.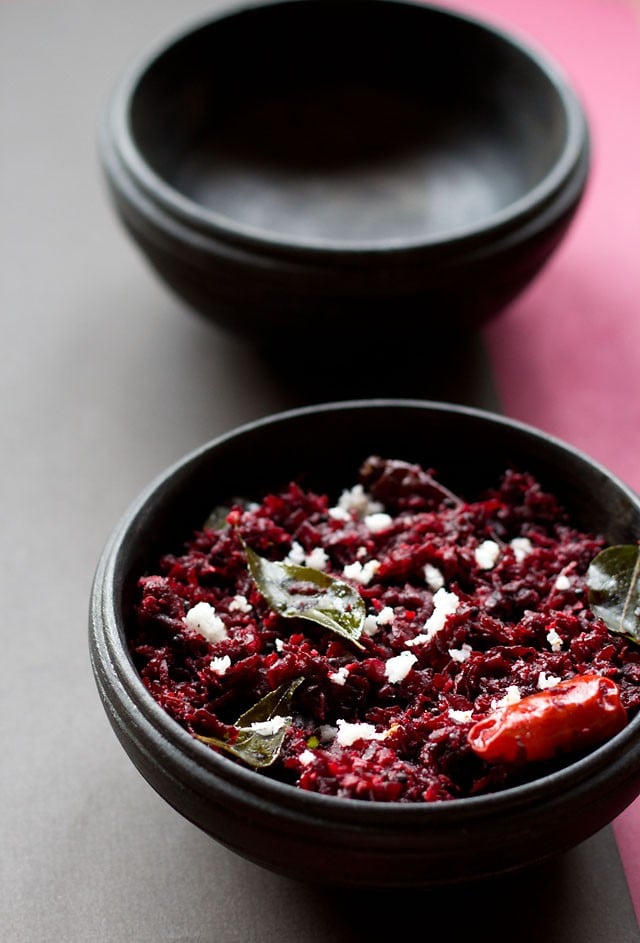 About Beetroot Thoran
A thoran is a traditional dry veggie preparation and a specialty from the cuisine of Kerala. It can be made with a variety of finely chopped or grated vegetables.
The Beetroot Thoran is also one such variation. There are many ways thoran can be made with or without the inclusion of some spices and herbs.
It is also one of the veggie preparations that is served in the Sadya – which is a grand vegetarian feast made during Hindu festivals and celebrations in Kerala and served on a plantain leaf.
If you do not like the raw taste of beetroot, then you should try this Beetroot Thoran recipe. It tastes great. It goes very well with roti, paratha, especially the Kerala Paratha and even steamed rice. You can also have it as a side dish.
To make the recipe, the beets are sautéed and cooked in a mix of pearl onions or onions, curry leaves, mustard seeds, green chillies or red chillies, a few spices and later finished with plenty of coconut.
In this Beetroot Thoran recipe, I wanted some spiciness that…
Read full article Source