Coconut Rice Recipe
The coconut tree is rightly called the 'tree of life,' for the myriad ways each part of the tree be used. Even if we take the fruit in itself, there's so much a coconut offers – the fresh flesh, water, dried coconut and more. This recipe is one such that uses the coconut in its…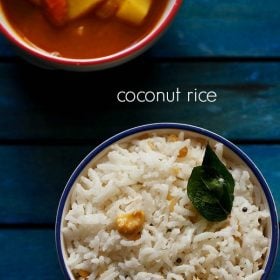 The coconut tree is rightly called the 'tree of life,' for the myriad ways each part of the tree be used. Even if we take the fruit in itself, there's so much a coconut offers – the fresh flesh, water, dried coconut and more. This recipe is one such that uses the coconut in its most popular way. Coconut Rice is a light, tasty, savory South Indian rice variant made with fresh grated coconut, lentils, herbs and spices. This recipe is easy, yet delicious and is vegan too. For a gluten free version, just skip the asafoetida.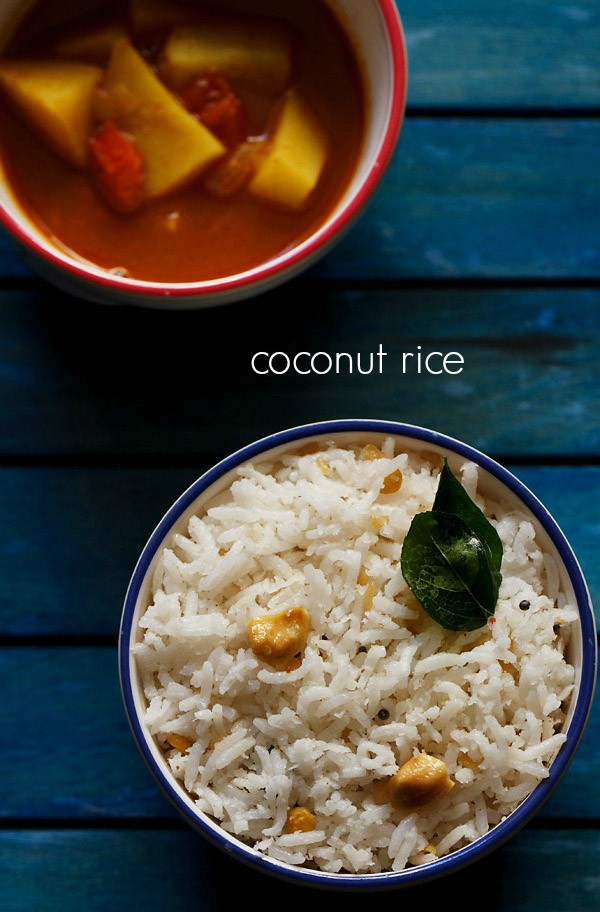 About Coconut Rice
This nutty and mild rice-based dish is called Coconut Rice, also Thengai Sadam in Tamil language. The words 'thengai' means 'coconut' and 'sadam' denotes 'rice.'
Coconut Rice is one of the staples as well as favorite dishes in the South Indian regions of India. Fairly simple to make, this dish comes together by mixing sautéed or fried lentils, spices, herbs and fresh grated coconut with cooked rice.
There are quite a number of variations of this Coconut Rice recipe in South Indian cuisine. My recipe version features freshly grated coconut, which is also the star here.
The lentils, cashews…
Read full article Source