Dukkah Recipe (Egyptian Nut and Spice Blend)
Here's a dish that's as interesting in its flavors as is in its name – Dukkah. It traditionally belongs to the Egyptian cuisine and also is a part of other Middle Eastern cuisines. The Dukkah Recipe is a super easy, simple, quick and tasty condiment made with nuts, seeds and spices. Since it does not…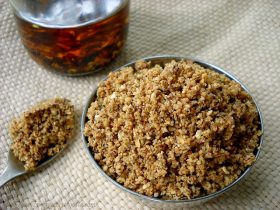 Here's a dish that's as interesting in its flavors as is in its name – Dukkah. It traditionally belongs to the Egyptian cuisine and also is a part of other Middle Eastern cuisines. The Dukkah Recipe is a super easy, simple, quick and tasty condiment made with nuts, seeds and spices. Since it does not have any fats added to it and there's only the natural fats from the nuts and seeds in this ground mixture, it is also a nutritious food choice. It is also known as duqqa/dukka, doa or duah.
What is Dukkah
Dukkah or Duqqa is basically an Egyptian condiment with nuts, seeds, spices and herbs as its primary ingredients. All ingredients are dry roasted, then put in a food processor or a mixer-grinder along with seasonings (usually sea salt) and ground to a coarse mixture.
Dukkah Recipe is essentially made to be served as a dip with a combination of crusty bread or fresh vegetable crudités as a snack. Traditionally, the bread or veggies are first dipped in olive oil and then in the duqqa. This can also be served as a starter.
The word Dukkah has its origin in the Arabic language, a word which means 'to pound.' Certainly, the way this delicacy is prepared explains this association.
So, not just in the Egyptian food culture, it is also popular…
Read full article Source