Kovakkai Poriyal
Kovakkai poriyal recipe with step by step pics. Kovakkai poriyal is a South Indian style ivy gourd (tindora or kundru) stir fry. This is also a no onion, no garlic recipe and vegan too. This Kovakkai Poriyal is one of the simplest and easiest recipes that you can make with Ivy gourd, and team up…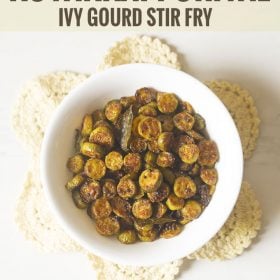 Kovakkai poriyal recipe with step by step pics. Kovakkai poriyal is a South Indian style ivy gourd (tindora or kundru) stir fry. This is also a no onion, no garlic recipe and vegan too. This Kovakkai Poriyal is one of the simplest and easiest recipes that you can make with Ivy gourd, and team up with your flatbreads or sambar rice combo to make it into a tasty and wholesome meal.
"Kovakkkai" is the Tamil name for ivy gourd and poriyal is a sauteed or stir-fried recipe made with any vegetable.
Ivy gourd is also known as "tindora" in Hindi and "tendli" in Marathi languages. So this kovakkai poriyal can also be called as ivy gourd stir-fry. The stir-frying is done on a low heat and not on a high heat so that the ivy gourd slices get cooked uniformly and do not get burnt. It is also important to note that the stir-frying is not done non-stop but at intervals.
I often make poriyal recipes with various vegetables as they are quick to make and pair very well with rice or roti accompanied with some dal, sambar, rasam. In fact, poriyal also tastes good when accompanied with curd rice.
This kovakkai poriyal is an easy recipe, gets done quickly and is a slight crispier version. It is also a simple and homely version of kovakkai poriyal made without onion and garlic. It can be packed in the tiffin box with chapatis or served as a side with rice accompanied with dal or sambar…
Read full article Source