Kuska Rice | Kuska Biryani
Kuska Rice also known as Kuska, Khusqa or Khushka, is a simple South Indian way of making a flavorful dish, made with basmati rice, ghee and choicest of fragrant spices. Thus, it is also called as a Kuska Biryani minus vegetables and/or meats, as finally you have a rice-based dish which is super high both…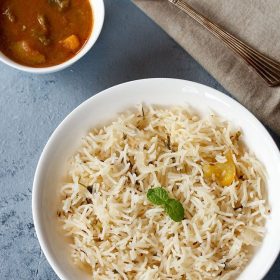 Kuska Rice also known as Kuska, Khusqa or Khushka, is a simple South Indian way of making a flavorful dish, made with basmati rice, ghee and choicest of fragrant spices. Thus, it is also called as a Kuska Biryani minus vegetables and/or meats, as finally you have a rice-based dish which is super high both on flavors and fragrance. Traditionally, this taste laden rice dish is accompanied with a korma or Kurma, curry or gravy.
What is Kuska Rice
Since the one-pot Kuska Biryani from South India does not use any meat or veggies in its preparations, it is also sometimes referred to as 'empty biryani' or 'MT Biryani'.
It is also called 'plain biryani'. Interesting, isn't it? Preferably, good quality basmati rice is a paramount requirement to make this rice.
Next, is the list of spices that play an integral role in giving the Kuska Rice its true essence. These are cinnamon, green cardamom, caraway seeds (shahi jeera), cloves, tej patta (Indian bay leaf), mace, etc.
However, the spice list is not just limited to this. Along with these, there's onions, ginger, green chillies, coriander leaves, mint leaves and the likes.
In some restaurants you will find that in-spite of using a varied range of spices, herbs and…
Read full article Source