Masala Chaas Recipe (North Indian Buttermilk)
The classic Chaas (Chaach/Mattha) also known as the Indian version of buttermilk is a refreshingly cooling summer drink made with creamy yogurt and seasonings. Here you'll find step-by-step instructions with photos for making two chaas recipes – Masala Chaas and Pudina Chaas. Called by various names across the country this spiced Indian buttermilk drink features…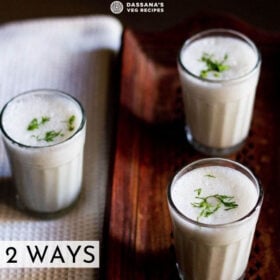 The classic Chaas (Chaach/Mattha) also known as the Indian version of buttermilk is a refreshingly cooling summer drink made with creamy yogurt and seasonings. Here you'll find step-by-step instructions with photos for making two chaas recipes – Masala Chaas and Pudina Chaas. Called by various names across the country this spiced Indian buttermilk drink features lots of bold, delicious spices.
What is Chaas
Traditional Indian chaas is made by blending cold, rich yogurt with a bit of water and nearly any spices you like. Today I'm sharing with you two recipes for making chaas.
The buttermilk is made by churning or blending yogurt and water with some spices and/or herbs. A bit of butter comes on the surface while churning.
If you prefer you can remove the butter fat aside and only serve the buttermilk or serve chaas with the butter fat. We love to have chaas with that bit of butterfat.
To make chaas, you can use a blender, an immersion blender, a wired whisk or the traditional Indian handheld wooden churner (called madani).
Not only salty chaas is had during summers but also as a part of meals and sometimes before or after meals. There are again many ways of making it.
We also drink the buttermilk separated from blending/churning cultured cream or yogurt while making homemade butter – which is traditionally known as buttermilk all…
Read full article Source