Masala Milk | Masala Doodh
Masala Milk or Masala Doodh, as it is popularly referred to in India, is a sweetened flavored milk-based beverage from the Maharashtrian cuisine. This recipe is also very easy and simple to make. The preparation of this flavored milk has a mix of nuts and a few chosen spices ground into a masala powder first,…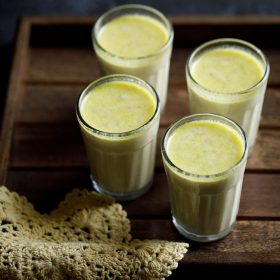 Masala Milk or Masala Doodh, as it is popularly referred to in India, is a sweetened flavored milk-based beverage from the Maharashtrian cuisine. This recipe is also very easy and simple to make. The preparation of this flavored milk has a mix of nuts and a few chosen spices ground into a masala powder first, and then added to the milk resulting in an aromatic and yummy drink. This beverage is usually made during the Sharad Purnima or Kojagiri Purnima festival in households across Maharashtra.
About Masala Milk
The entire recipe of this Masala Milk can be divided into 3 major steps – grinding the nut-spice masala powder first followed by boiling the milk and then eventually mixing the prepared powder, sugar and/or other flavorings to make the beverage.
Like for any other dish, there can be many variations to the recipe of this Masala Milk too. Some families also have their age-old recipes passed on from generation to generation, which they claim to be secret. I actually don' think that something so unique can be done to this recipe that can be termed as secret!
However, my recipe includes the basic essentials and the procedure that results in an authentic Masala Milk. For the masala powder, I add nuts like almonds, cashews, pistachios and spices like saffron, green cardamom and cloves (optional). I also like to grate in some nutmeg in the milk to elevate the flavors. This pretty much makes a lovely Masala Doodh.
Apart from making the Masala Milk during Kojagiri…
Read full article Source