Mathanga Erissery | Pumpkin Erissery Recipe
There are so many recipes that can be made with Pumpkin – a veggie from the squash family. Just like this Pumpkin Erissery, which is a lovely dish from the cuisine of Kerala. Also known as Mathanga Erissery, it is a mildly tempered curry with slight sweet tones from the pumpkin and coconut. It is…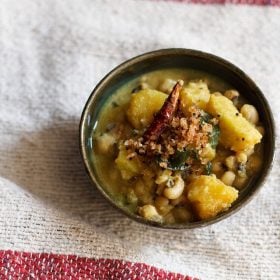 There are so many recipes that can be made with Pumpkin – a veggie from the squash family. Just like this Pumpkin Erissery, which is a lovely dish from the cuisine of Kerala. Also known as Mathanga Erissery, it is a mildly tempered curry with slight sweet tones from the pumpkin and coconut. It is also gluten-free and vegan as all the ingredients in this recipe are plant-based.
About Mathanga Erissery
The Malayalam word 'mathanga' means 'yellow pumpkin' in English. 'Erissery' is a Kerala style curry of vegetable or legume, coconut paste and tempering of basic South Indian ingredients.
Also known as 'elisseri' or 'ellisherri,' it is one of the main dishes that is served in the traditional vegetarian feast 'sadya' during Onam festival.
In this post, I am sharing one of the most common variations of this dish, which is a no onion, no garlic Mathanga Erissery.
This was actually made at home, when I had purchased the pumpkin or kaddu to make a sweet halwa and instead ended up making this delicious and comforting erissery.
In addition to the mathanga in this Pumpkin Erissery, other ingredients and elements include cowpeas or black eyed beans, ground spices, a coconut paste and a tempering made of curry leaves, mustard seeds, dried red chilies and fresh coconut.
Since this is a classic recipe from Kerala, a South Indian state, the tempering is done in coconut oil. I have used black-eyed cowpeas, but you can also use red cowpeas. Other than this, sometimes pigeon peas (arhar dal) may be added in…
Read full article Source