Milagu Rasam | Pepper Rasam
While your regular soups are usually full-bodied and thick, which may also have a lot of veggies and/or proteins, etc., a typical South Indian Rasam is thin and more nutritious version. Within South India also, there are many varieties of rasam, like this Milagu Rasam. So, basically it is a Pepper Rasam which is a…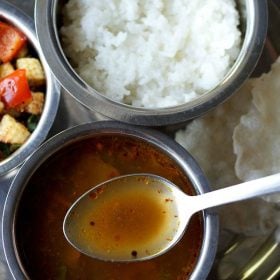 While your regular soups are usually full-bodied and thick, which may also have a lot of veggies and/or proteins, etc., a typical South Indian Rasam is thin and more nutritious version. Within South India also, there are many varieties of rasam, like this Milagu Rasam. So, basically it is a Pepper Rasam which is a tangy and spicy variation made with black pepper, tomatoes, tamarind and other spices. Thus, great for curing stubborn colds, coughs during winters. The recipe is simple, vegan and comforting too.
About Milagu Rasam
Firstly, 'Milagu' is the Tamil word for 'Pepper' and 'Rasam' is the Tamil word with its origin in the Sanskrit word 'rasa,' meaning 'extract, juice or essence.'
Hence, this rasam variety is rightly named as Milagu Rasam as one of the primary ingredients in its spicy mix is black peppercorns, which is further simmered in a tempered mixture of juices of tamarind and tomato.
Making any rasam is not rocket science. And same is the case with this Pepper Rasam too. Other than the black pepper, tomatoes and tamarind, the rest of the ingredients too are the basic ones that are always available in any Indian home pantry.
You also…
Read full article Source