Mushroom Tikka | Tandoori Mushroom
If you don't like mushrooms knowing the fact that it is a type of fungi, let me give you a reason to change that thought process of yours. Presenting a recipe which has all the grilled goodness. This Mushroom Tikka or Tandoori Mushroom is a delectable and easy way to put 'em mushrooms in use.…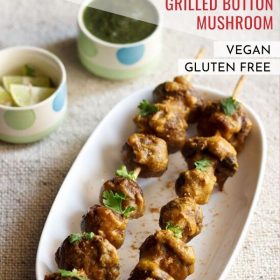 If you don't like mushrooms knowing the fact that it is a type of fungi, let me give you a reason to change that thought process of yours. Presenting a recipe which has all the grilled goodness. This Mushroom Tikka or Tandoori Mushroom is a delectable and easy way to put 'em mushrooms in use. You just have to marinate the mushrooms, and grill, bake or tandoor cook them. I'm guaranteeing that after trying this preparation, mushrooms are going to be your favorite!
More on Mushroom Tikka
You know these tandoori style mushrooms are so good that once one of my non-vegetarian friends also went gaga over it. More so because the texture was meat like as many a times mushrooms do give that appearance. So, I can say that this Mushroom Tikka recipe is surely going to be a star for the vegetarians.
I have adapted this recipe of Mushroom Tikka from the Amritsari Fish which is a famous seafood starter in almost all Punjabi/North Indian restaurants and dhabas (roadside eateries). This is not just in Punjab, but in other regions across India.  
Source