Rice Cutlet | Leftover Rice Cutlets
Got leftover rice from last night? Don't really want to make another wok-tossed fried rice with it? Want to turn it into a nice, yummy snack? This Rice Cutlet recipe is the answer to all these questions. These Leftover Rice Cutlets are crisp, scrumptious and uses the most basic ingredients like potatoes, onions, other herbs…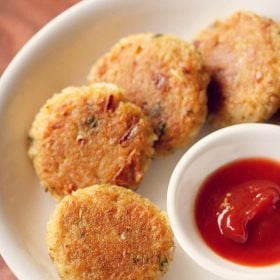 Got leftover rice from last night? Don't really want to make another wok-tossed fried rice with it? Want to turn it into a nice, yummy snack? This Rice Cutlet recipe is the answer to all these questions. These Leftover Rice Cutlets are crisp, scrumptious and uses the most basic ingredients like potatoes, onions, other herbs and spices. This simple and easy recipe is also vegan and gluten free. You really can't miss trying it!
About Rice Cutlet
This Rice Cutlet recipe is one of those many dishes that I make with cooked rice, and are absolutely a smashing delight for the palate. There's actually no chance of anyone not liking these cutlets. They are so good!
Many a times, when there is leftover rice after lunch, I use it to make this Rice Cutlet and many more lovely dishes. It is best to use the cooked rice this way, which doesn't amount to wastage at all.
One of the best things about these Leftover Rice Cutlets is that they are really simple to prepare. You just need some cooked rice, boiled potatoes and spices. Mix everything up, shape into cutlets or tikkis and shallow or pan fry them. Awesome snack, ready in a matter of minutes.
Any variety of rice…
Read full article Source