Usal Recipe | Maharashtrian Malvani Usal
This Maharashtrian Usal recipe is a wonderful warming curry made with roasted spices, desiccated coconut, boiled mix sprouts, onions, ginger and garlic. Serve this mouth-watering rich gravy with steamed rice, roti, poori or bread as a main course. About Usal Recipe The word Usal comes from the Marathi language and refers to dishes made with…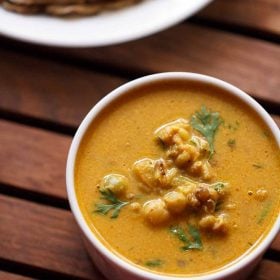 This Maharashtrian Usal recipe is a wonderful warming curry made with roasted spices, desiccated coconut, boiled mix sprouts, onions, ginger and garlic. Serve this mouth-watering rich gravy with steamed rice, roti, poori or bread as a main course.
About Usal Recipe
The word Usal comes from the Marathi language and refers to dishes made with legumes. They are served dry, semi-dry or with gravy and can be made in several different ways. This recipe originates from the coastal Konkan region of Maharashtra state.
In this recipe, a masala paste is made with roasted spices, coconut and onions which is later cooked with steamed or boiled beans sprouts. I have used Mixed Sprouts, but feel free to use any bean or sprouted beans of your choice. The recipe is versatile and easily adaptable to make with any other dried beans or sprouts.
For example, use Black Eyed Peas, Mung Bean Sprouts, whole Green Moong Beans, white chickpeas or black chickpeas.
My favorite usal is made by my mother of course! It is from the Malvani cuisine and has a slightly different taste to the other Maharashtrian usal varieties. There are many variations of usal in Maharashtra and this recipe is a variation that includes coconut which gives it a coastal flavor.
As I was born and raised in Mumbai I am very fond of the flavors in Maharashtrian cuisine. Some of my favorite Maharashtrian foods include Sabudana Khichdi, Puran Poli, Batata Vada, Bharli Vangi and Misal Pav.
…

Read full article Source